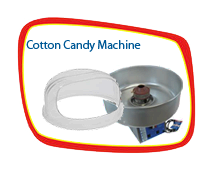 Cotton Candy Machine
Make your next event a great success with this Cotton Candy Machine. We provide cones and sugar floss for 50 servings. $20 for 50 additional servings and supplies. If you have not done cotton candy before, we recommend watching a youtube video prior to your event.
Basically, you pour the sugar floss in the top opening of the machine. The machine begins to spin and heat creates a spider web film that let's you know you are in business! You simply take the cone and spin it around the spider web film to create an awesome cotton candy cone.
Cotton candy machine and (1) 3.25 lb. carton of floss included and 50 cones.